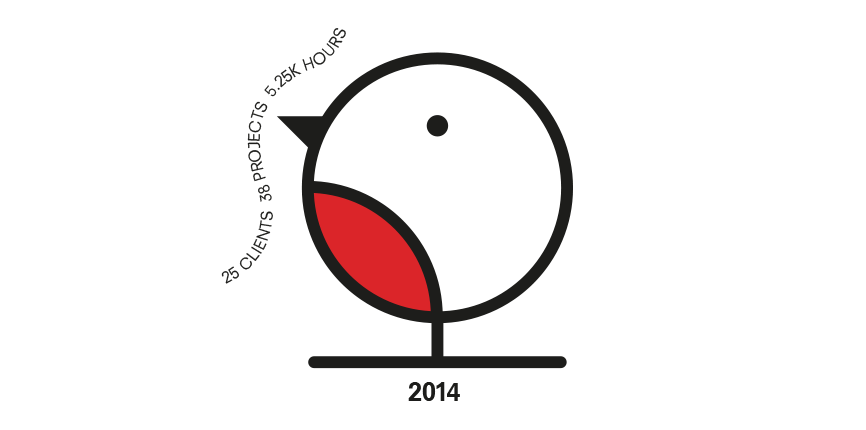 As has become tradition, we summarise what we've been up to in the past 12 months with the annual Round Robin post.
Another year, another office! Looking back at our last yearly round-up we announced that we'd moved office, well we've only gone and done it again. Our last base in Shoreditch Works served it's purpose but like much of the Silicon round-a-bout the workspace is now being pulled down and re-developed. So we took the opportunity to search for a place with our friends at Socio Design and now we are in a shiny new space on Bankside behind the Tate modern. The office is nicely refurbished Metal Box factory and it's refreshing to have a place that we can call our own, well half of it. This corner of London seems to be going through quite a few changes itself and it will be fun to explore our new locality more in 2015.
Our design department grew by one when we welcomed Luke at the start of the year, he's helped us deliver some great work. Bo is still with us after venturing off half way through the year to Malaysia in search of the perfect chocolate bean. Check out her story and new venture at Beau Cacao we're all set for a tasting next week.
To the work
We were fortunate enough to be invited by Pivotal labs again to collaborate with them on a project for The Economist. A daily news app called Espresso has been proving rather popular and stayed at #1 in the App Store for its category after launch. Get it in the App Store or on Google Play.
Our major project of the year was for a new B2B service called InsightBee. This saw us travelling regularly to Zurich and join a research trip to Delhi. InsightBee allows you to order reports on companies, executives, industry sectors as well as ask business questions. There is a team of analysts in the background that create your report. We helped to create the identity and define the whole UI & UX of purchase experience as well as how the reports are generated behind the scenes. It continues to be a complex but exciting project to be involved in and will be getting a big push in 2015. It also gave us an opportunity to familiarise ourselves with HubSpot which seems to be growing in popularity as marketing management tool.
Some other websites
We produced a few content-centric websites this year one for wine guru Jancis Robinson.
Bouncepad, who are industry leaders in the tablet kiosk and display stand space.
Hot topics, an event and news site for tech business leaders kept us very busy in Q4 this year and saw their London event in November streamed live from the site.
We helped move our long-term clients at Moon Climbing to a refreshed Magento site, and provided a modern update to one of Londons more successful co-working providers.
Some interesting startups whose products we've touched this year include…
PRYYNT. A print-on-demand service that integrates into websites and mobile apps.
Style on screen. Fashion recommendation service based on celebrity culture and Twitter, became its own web platform.
Network Locum. A long-standing client who's platform finds and manages Freelance NHS worker jobs. They have been reinvesting in a new round of UX work which has seen most areas of year service refreshed with substantial gains in conversions experienced as a result.
Launchpad. Another long standing client who've seen fantastic growth and who we've been helping iterate upon and grow their video interviewing platform.
Bike trip round Devon
Neil and Jon put rubber to Tarmac and cycling another 300+ kilometres on their annual cycle trip, this time around beautiful, but hilly Devon.
If you're wondering where your Christmas card is, this year we decided to bypass the traditional Christmas-card routine and send the money that would have gone on stamps and cards to the Shelter appeal to help homeless children at Christmas. It's hard to believe that 90,000 children in Britain will be homeless this Christmas! Seemed like the right thing to do.
We're all looking forward to 2015. January is looking busy for what has traditionally been a quiet time of the year. So we hope that's a sign of how the year will progress. We're hoping to expand a bit further and build up the team and look forward to seeing what design challenges the year brings.
If you've got this far in this message then well done, have a mince pie and all the best from all at Every Interaction. See you in 2015!